Annuals In Containers
---
Container gardening is a good alternative when wanting to add color to your home when lacking space or not wanting to dig in a hole in your yard. Annuals add seasonal color to your containers and come in many varieties-they may be trail, climb, or grow upright. Annuals are seasonal plants which gives you the chance of changing your container design seasonally.
Clean out your container
If using a container used during the previous season, make sure to remove any old or dead plants from the container. Remove any old roots to avoid rotting or decomposition od old root systems. Move soil around to make sure there aren't any root systems left at the bottom.
Choosing plants
Choosing the right plant for the right place and making sure all plants in the container have the same light needs is the key to success. Avoid combining shade and sun plants since depending on the location and the mount of light they receive during the day, some of them might receive too much or too little sunlight.
Thriller, spiller & Filler
Once you've filled 2/3 of your container with soil. Start arranging your plants in the container. Here's where it's important to decide which side will be the front of your container. A common container gardening rule is having a thriller, filler and a spiller.
Thrillers are the focal points of your container. This provides a bold vertical element that caches the eye. Such as:
Canna lily, grasses, Dahlia, Cosmos, etc.
Spillers are plants that cascade over the sides of your container. Such as:
Ivy, bacopa & sweet potato vine.
Filler plants are those which surround and enhance the thriller and filler. Such as:
Geranium, Petunia, Lantana,etc.
---
Annuals In Containers Essentials
---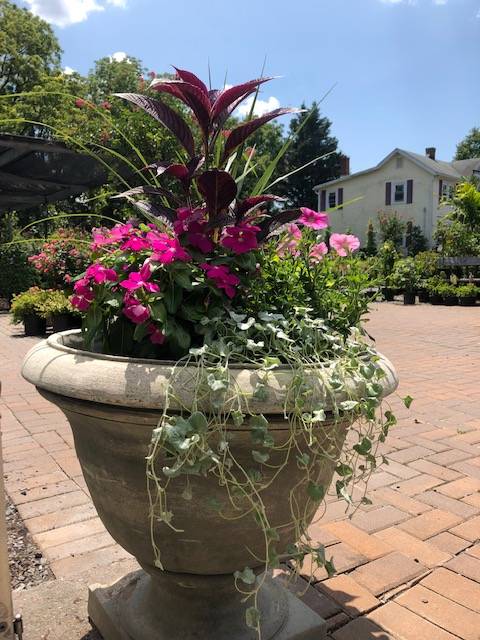 Fill up crevices with soil
Go around your container and make sure to fill up any empty pockets with some soil.
Add some fertilizer
We recommend using some osmocote. Please make sure to follow the packet instructions.
Top Dressing
Add a thin layer of soil condition on the top of the soil to help keep your soil nice am moist during the summer.
Water your plants
Make sure to water thoroughly.
And you're done!