Orchid Repotting
Jun 9th 2021
Phalaenopsis Orchid Repotting

---
Orchid repotting times are different from your average houseplant. If an orchid appears to have outgrown its pot, the roots look tightly tangled or the potting medium looks like it may be rotting. It might be time to get your gardening gloves on and start the repotting process
What is the best time to repot your orchids? Springtime is a good time to start repotting, especially if your plant is actively growing. Avoid repotting your orchids if they're flowering. Repotting an orchid while blooming might cause the flowers or buds to drop from the plant.
Choose the right pot. Orchids like plenty of airflow. It is essential to use a pot with holes on the sides or some kind of opening that will allow air in and out is essential.
Prepare your planting medium. Orchids are not potted in regular potting soil. Instead a mix of moss, bark and horticultural charcoal is used. It's a good idea to soak your potting mix in clean water prior to use.
Trim any dead materials from the plant.
Carefully remove the orchid from its pot.
Disentangle and trim any dying roots. Once you've removed the orchid from its container, carefully loosen the roots with your fingers to help disentangle the roots and remove excess potting mix. If there are dying roots (they have a brown color) trim them off with pruners.
Star repotting. Get a handful of your already soaked potting medium and lightly squeeze to get rid of excess moisture. Place the handful of potting medium right under your orchid roots, this will help keep the roots out and give them enough breathing space. Place orchid in a new container and cover roots with more drained potting medium.
And you're done!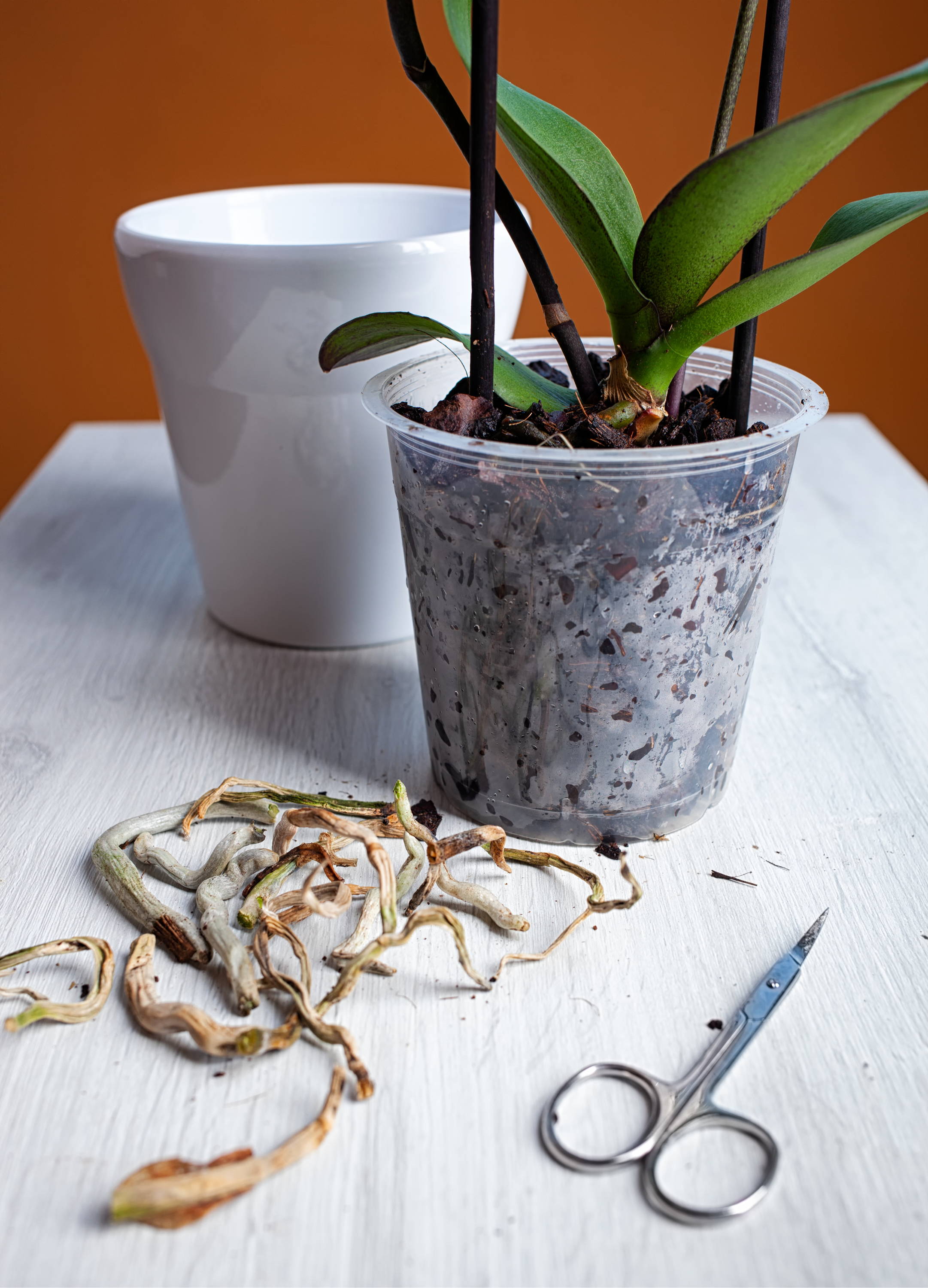 Phalaenopsis Orchid Repotting