Landscape Design | Build | Maintain
Landscape Design | Build | Maintain
The magic begins immediately when leaving a closed room and walking outside onto a patio.
• On-site consultations at no charge
• Conceptual/preliminary plans and estimating proposal
---
• Conceptual/preliminary plans and estimating proposal
•Planting designs for any style garden you prefer
• Patios, terraces, walkways, steps and retaining walls
• Drainage problem solving, regrading and dry stream beds
• Sustainable landscapes and storm water management control
---
• We offer a year-round maintenance package that includes: pruning, weeding, fertilizing, mulching, edging, leaf and debris removal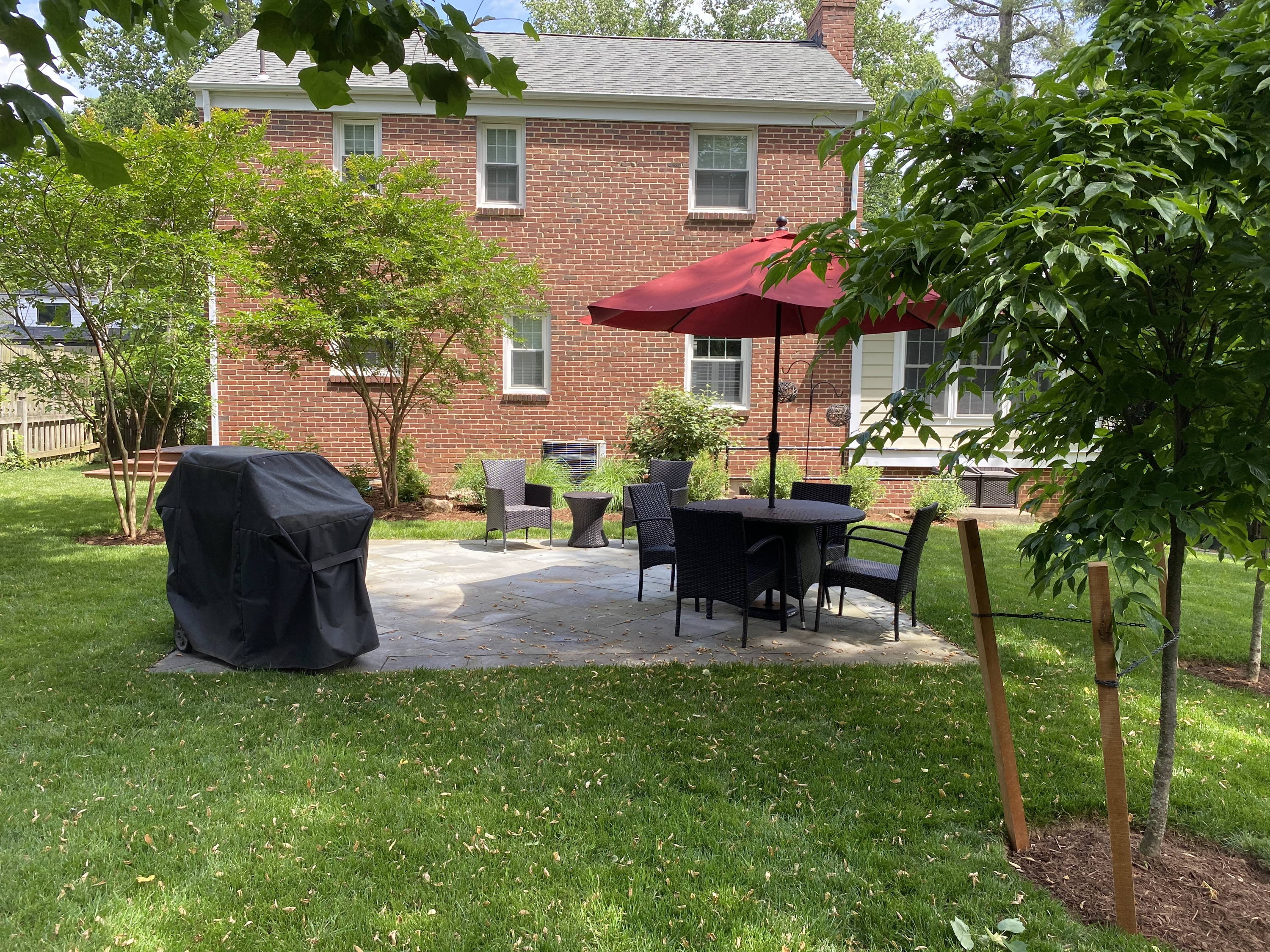 American Plant's Landscape Design | Build | Maintain team is committed to our customers for the long term. From small entertaining spaces to grand gardens, we customize our services with a plan that meets your needs, budget, and lifestyle. Our process includes LEED compliant landscape practices, sustainable designs, organic gardening techniques, and products. The result is a vibrant, low maintenance garden with inviting and intimate entertainment spaces, achieving the highest quality of outdoor living.
Meet with one of our talented landscape designers to learn how you can have your home surrounded by the landscape of your dreams! The Landscape Design Center is at 7405 River Road, Bethesda, MD 20817.
We recently completed a major house renovation that left a huge mud pit in our back yard. I have worked for years with American Plant for garden upkeep, but never for designing from scratch a seating area and garden that would complement a contemporary house. So I had my reservations but decided to ask them for a quote.  
I was pleasantly surprised when I met landscape architect Basem Saah. He understood what I envisioned and managed to translate abstract ideas, like "chaotic garden with a structure" and "a zen passage that's like a whisper" into reality.
He was willing to revisit multiple times the plans until we got the right fit for our budget. He was very knowledgeable about different plants and materials and had great ideas on how to incorporate rocks and stones in a way I had never thought would work. He created visually arresting features in a very small space. He was also willing to rethink and revise elements that I felt needed to be reconfigured. We'll go back to him when we are ready to do our front yard.
Zoe Leoudaki, Washington DC
"We had a stellar experience with American Plant. From planning to planting to payment, every single person we interacted with was high quality, highly engaging professional. They went above and beyond to give us value for our dollar, understand our style and needs, and gear us away from unnecessary expenditures. Perhaps most impressive was the cohesiveness of the entire team. It is rare to see the kind of care and respect the customer receives also applied to the folks providing their manual labor, and it paid off in dividends in the quality of the work. Can't recommend them highly enough!"
Ginya, Arlington VA
I loved Jim's design, the team that did the installation was first-rate, and the follow-up customer service was impeccable. That's why we came back immediately for round two!
Michael, Bethesda MD